A few important notes... there are a few requirements for us to use to Common Man for our banquet
(1) 2 suites and 8 rooms must be reserved by Jan 25, 2017; you get a 30% discount! The suites are directly next to the banquet; best rooms in the place.
(2) $250 spent at the bar in the banquet room (this should be an easy requirement to meet)
(3) Send meal choice and check (postmarked Feb 1, 2017); yes, we can add on later, but we are on the hook for the min. number that we provide to them two weeks in advance (don't cancel!)
The Sports Car Club of Vermont (SCCV) is hosting the NEHA banquet this year… I got the short straw.
WHEN
February 25, 2017
WHERE
Common Man
21 Water Street
Claremont, NH 03743
603-542-0647
DINNER
Please make sure you do register/pay for a meal as we rely on the income from the meals to pay for the room.
Mail your check for the buffet by Feb 1, 2017 as we need to provide a head count
This year is a buffet. The buffet is essentially a free for all and you can make more than one trip. Sweet! I do not need to know meal choice, just head count.
Meal includes:
Sliced Roasted NY Sirloin with garlic demi-glaze
Stuffed Chicken with an herb dressing and garlic butter with supreme sauce
Chef's choice vegetarian that comes with vegetables with a side of vegetables and perhaps some more vegetables on top
The buffet includes:
Garden salad
Grilled marinated vegetable platter (great for the vegetarians in the group)
Fresh bake rolls
Garlic mashed potatoes
Also included is the chef's selection of dessert, coffee, and hot tea service.
Prices include taxes, service charge, and a portion of the room rental fee.
**** Meals are
$45
adult and
$15
for young children. Mail payment and head count (adult/children)****
Make check payable to "NEHA" and mail to:
NEHA Banquet
PO Box 1414
Williston, VT 05495
HOTEL
Get your room by Jan 25, 2017!!!
We have a discount rate for the "New England Hillclimb Association". Rooms are on site.
It is very important to note that we must pay for two suites and 8 rooms otherwise no one will get the discount rate, plus, you need to get your room no later than January 25, 2017.
Rules rules rules!
PARKING
You will find a parking garage (free!) at the end Water Street.
SCHEDULE
2017 NEHA Rules Meeting in the Sugar River Ballroom (same room as dinner)
2:00pm to 5:00pm
Cocktail Hour in the Sugar River Ballroom
5:00pm to 6:00pm (bar in the banquet room...
$250 min at the bar
)
NEHA Banquet in the Sugar River Ballroom
6:00pm to 10:00pm
2017 NEHA Rules Meeting Details
Rule submission details are
HERE
-Steve
"Rabbit Farmer" on the forums
SCCVermont@aol.com
Where the rooms are located....
Building "B" in the map above is where all the action happens.
There is an outdoor walkway that connects the basement level of the hotel to the first floor of the "B" building.
You will enter the building at #1.
#2: Stairs down to the bar and restaurant... this is not the area where we are having our banquet.
#3: Stairs up to the 2nd floor where we have our meeting and banquet in room #5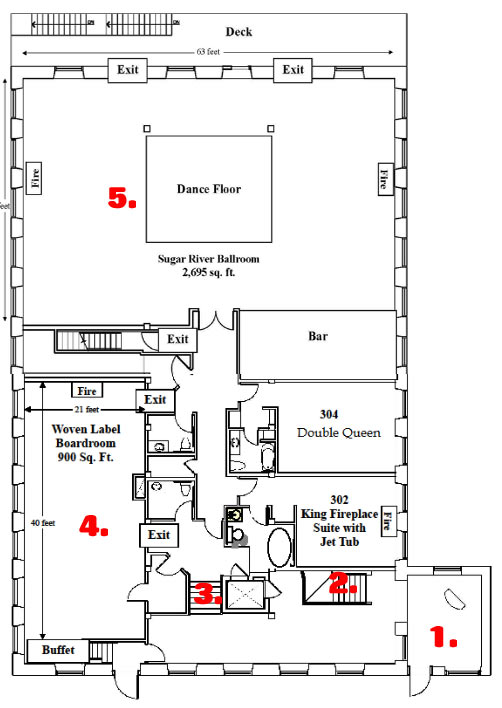 -------------------
I need t-shirt sizes for the following people for the 2016 season (class winners):
Paul Tingaud - XL
Michael Ruggiero - L
Walter Clark - XXL
Emmanuel Cecchet - L
Kent Everding - L
Erik Reisner - L
Don Taylor - L
Stephen Jones - L
Jason Slattery - L
Julie Jones - S