As many of you know the wire used by KSCC at Okemo and Burke for years has been literally falling apart the last few seasons.
In another post here in Projects, John R. suggested we look at WD-1 or WD-1A.
This past fall SCCNH, in the person of Drew Young, generously offered me (KSCC) the unused wire (WD-1A) they had in storage. You may know SCCNH uses a similar wire at Ascutney. We gladly took them up on the offer and I departed Ascutney II with 2 reels (4k) of the steel core WD-1A and 2 reels (2 miles, each) of a copper core military surplus telegraph wire that is similar. Later last fall Drew found a 3rd partial reel of the WD-1A and i picked that up as well.
We (I mean I) decided KSCC would go with the steel core wire and offer a reel of the copper core to SCCV, whose current wire is about the same vintage as the old KSCC wire, but with about a fourth the abuse.
Plans are forming to put the new wire down at Okemo 1 a day or two ahead of that event to give us an opportunity to install drops for Okemo as well as mark and leave pieces of shrink on the wire approximately where the Burke drops should go. So far Sherm, Smokey and I are on board to do this and I think we could use a couple others (Paul?). I want to do it on a Thursday, but working people, like Sherm, need to do it starting early Friday.
In preparation, Sherm has been working on a new reel system to replace the old. The plan was to make it easier to handle than the current reel.
I have been working on a new deployment block. In the past, various things representing a turning block have been used including a carabiner. That seemed to work for the very flexible copper wire, but that would be extremely hard on a steel core wire. Having ruled out the otherwise fine large boat snatch blocks as unaffordable, I went off to design something from scratch.
I was able to locate a pulley made by Fenner that seemed to be almost ideal for what we needed...wide to accommodate the wire and drop stubs, large enough diameter to avoid "bending" the steel wire as it travels around about 180 degrees of the block, nylon construction to be light, durable and avoid chafing the insulation, with decent bearings to run free and last a long time and cheap (about $15). This is what I found, the RA4802: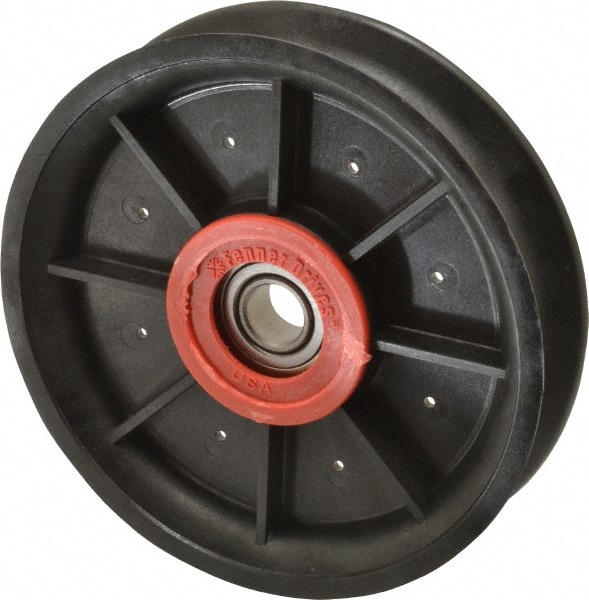 Then I set to making up the rest of a "block". This is my first attempt:
Ignore the long 3/8" bolt holding the pulley in place. That was a place holder until I could get the form right, then buy a proper length and hardness bolt. The frame is 3/4" square 1/16" steel tube and the pulley bolt goes thru a bushing welded into the frame tube. The eyebolt is designed to rotate in use or be locked down in any position. It all seemed to be pretty good before I assembled the frame to the pulley, then I realized the space between the pulley running groove and the bottom of the bushing / bolt retainer was way too small to be passing an often flailing drop stub connector thru without damaging the connector and stub wire. With the time that had gone into it up to that point and the only thing I really saw wrong was that spacing, I cut the longer bit of the bar and welded in a 1 1/2" extension:
Much better. Being happy with that, I went ahead and powder coated the frame (red to make it easier to find in the weeds) and bought a proper grade 8 bolt and nylon insert lock nut. I envision the block be connected to the pole with a zip tie thru the eyebolt as a safety valve against a snag or mishandling of the wire putting excess strain on the wire.
I may also come up with a nylon or delrin fairing around that eyebolt bushing area to help deflect and guide the stub, but am not sure that is needed.